E-cigarette Mr-Joy is there for every type of e-cigarette smoker
Mr-Joy is an expert in the field of electronic cigarettes. There are many different e-cigarette brands and types of e-cigarettes on the market including: simple e-cigarettes, advanced e-cigarettes, Mouth to Long e-cigarettes, Direct Long e-cigarettes, On mr-joy.nl only the latest and qualitatively the best e-cigarettes offered. Each brand has been thoroughly reviewed, so that the best hardware and parts per brand are available on Mr-Joy.nl. You no longer have to search endlessly to find the right e-cigarette because Mr Joy has already done that for you.
CLICK HERE
For e-cigarettes that use
+ 1.0Ω
[Mouth to Long],
- 1.0Ω
[Direct Long] or both ways of fumes.
CLICK HERE
For all PG / VG ratios of the e-liquids.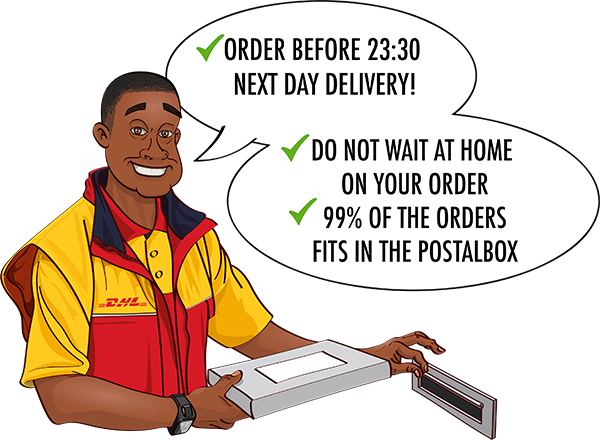 WE SHIP IN NEUTRAL PACKAGING

| | | |
| --- | --- | --- |
| Order |   | Delivery |
| Maandag |   | Dinsdag |
| Dinsdag |   | Woensdag |
| Woensdag |   | Donderdag |
| Donderdag |   | Vrijdag |
| Vrijdag |   | Zaterdag |
| Weekend |   | Maandag |
Mr-Joy is always looking for the best e-cigarette
E EASY
Are you a novice damper then you sit here well, these e-cigarettes are simple to use. And very suitable to make the switch from the traditional cigarette to e-smoking. E-smoking is quite simple as a beginner, make sure the battery is charged, the clearomizer has to be filled with an e-liquid and you can vaporize, the only thing you need to think about is that the coil (burner) is off and must be replaced. we indicate with thumbs what e-cigarette suits you best:
= Simple = Less simple

EXTENDED
Have you been e-smoking for a while or do you want to start with an e-cigarette with a powerful battery capacity and handy vapor settings so that you can vaporize all e-liquids then click on me.
= extended

ADVANCED
These e-cigarettes have OLED displays, power settings and durable coils that can withstand high temperatures so that mega vapor clouds can be produced and the optimum taste can be extracted from the e-liquid:
= Advanced = Very Advanced
If you still do not get out of the press, then click on the start button to compose your perfect e-cigarette !!
Which e-cigarette / coil fits best with which e-liquid?


Which e-liquid fits best with my e-cigarette?

Important in the choice of an e-cigarette is the coil, the coil determines the way of vapors and ensures that the right e-liquid is chosen. the coil of the e-cigarette consists of a -1.0 Ohm coil and a + 1.0 Ohm coil.

Smoking right over the lungs (-1.0 Ohm)
- 1.0Ω
This sign with the e-cigarette indicates that it fits about -1.0 Ohm coils, these coils are ideal for

e-liquids with a PG / VG ratio from 50/50 PG / VG and all ratios with a VG higher than 50VG

Feature :
A lot of vapor, Hookah effect, ideal for viscous e-liquids , so a high VG content
First in the mouth and then over the lungs (+1.0 Ohm)
| | |
| --- | --- |
| + 1.0Ω | This sign with the e-cigarette indicates that it fits over +1.0 Ohm coils, these coils are ideal for e-liquids with a PG / VG ratio of 50/50 PG / VG and all ratios with a VG lower than 50VG |
| Feature : | Mimics a traction of the traditional cigarette, ideal for thin e-liquids , so low VG content |
Are you looking for a complete package click here for every type of e-cigarette package